Build an Interdisciplinary School Change Team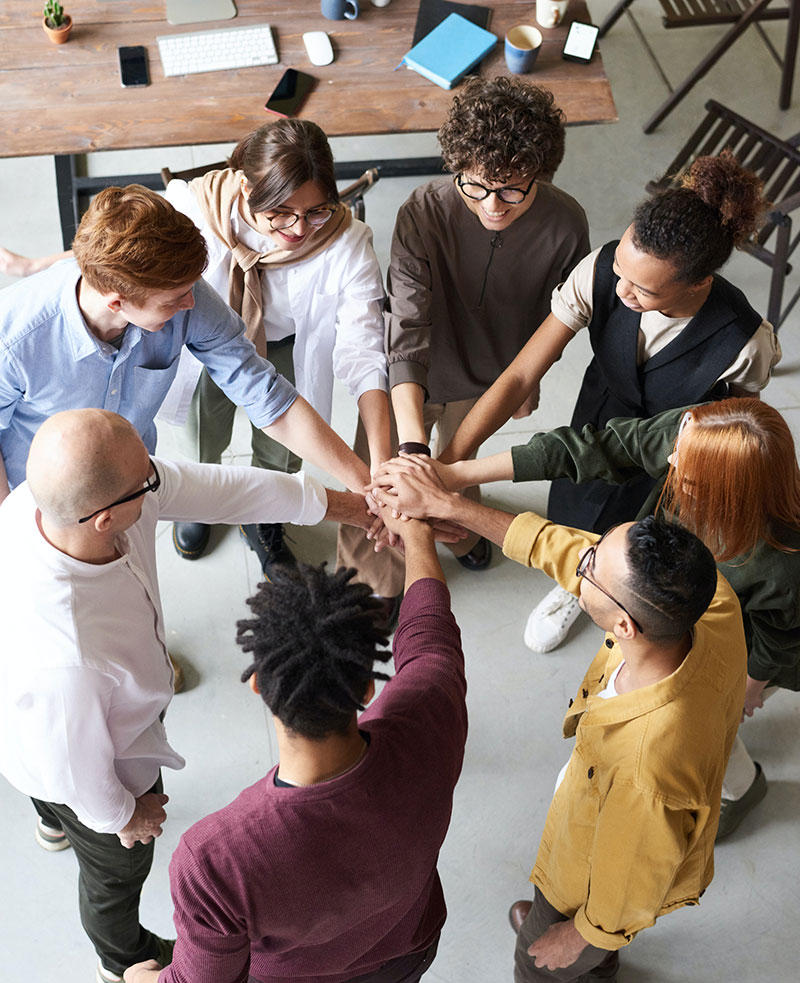 Restore and Reimagine Your School Culture Now With an Interdisciplinary School Team
Every school has a unique culture that grows from its history, size, organizational structure, geography, legends, resources, and demographics. The pandemic has revealed the strength of school cultures–what kept programs at least minimally moving forward–and the needs of school cultures, all the ways old habits and functions limited achievements. As hard as the pandemic has been to manage, we are in a historically unique time to create change. The time is ripe now to address your schools needs, and reinforce your school's strengths.
Such robust culture building is the job of school leaders, but absolutely cannot be imagined, designed and reliably implemented in isolation of the staff. Interdisciplinary collaboration is the key, but dysfunctional collaboration is too often a stumbling block: old conflicts re-emerge, distrust diminishes teamwork, marginalized subgroups remain marginalized, unexamined routines slide back into place. Without collaborative efforts, the past will become the future, now with the pains of the pandemic as an unknown variable.
The process has predictable structures and steps that are adapted to fit into each school's capacity:
Step 1: Identifying the starting point to the school change initiative.
Step 2: Assembling an interdisciplinary change team–in a small elementary school, the entire faculty may participate; in larger middle and high schools, representatives from various cohorts will lead the initiative.
Step 3: Identifying specific short term and long term goals and data to collect.
Step 4: Assessing the school's strengths and capacities–we always work from strengths, affirming current practices that will be springboards to motivation and improvements.
Step 5: Piloting new practices within the change team and disseminating those efforts and successes in the school community; this happens throughout the entire first year of the initiative.
Step 6: Piloting structural and procedural changes that enable the initiative to gain traction; this happens throughout the entire first year of the initiative.
Step 7: Bringing more and more faculty aboard to develop buy-in and gather feedback on how the initiative takes root across grades and disciplines; this happens throughout the entire first year of the initiative.
Step 8: Formalizing the new best practices in school documents, trainings, structures and procedures, evaluations, budgeting, and staffing patterns to fully embed the initiative into the long term functioning of the school.
Step 9: On-going review and adjustment of the program.
In smaller elementary schools in which the entire faculty functions as the change team, steps 1-7 have been accomplished by the end of the first year. For the larger staffing in most secondary schools, steps 6-9 often take us into a second year.
Jeffrey provides consultation and facilitation to restore and reimagine your school's culture with collaborative interdisciplinary teams. The work includes identifying measurable and observable goals, building school-wide momentum, distributing authority, disseminating home grown best practices, and sharing successes.
Available Workshops
Click to learn more about each workshop below
Finally, for all who have asked for years, the full explanation of "Interests, Uniformity, Guidelines and Inventions" to have a successful school initiative, including my school's bulletin board story. A must read for leadership.
Connect with Jeffrey Benson
Want to learn more about how Jeffrey can support your school or organization? Schedule at time to meet with Jeffrey to learn more about customized workshops and other services.